Accident between Snowmobile and ATV Results in One Fatality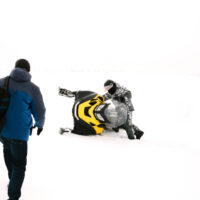 A collision in Ulster County recently caused the death of one man riding a snowmobile. Snowmobile accidents cause a surprising number of injuries across New York State each winter, and victims of these accidents may be eligible to file a lawsuit based on their injuries. A knowledgeable New York personal injury lawyer can provide an evaluation on whether you should file a claim if you've been injured in a snowmobile accident.
Crash between sport vehicles on private property
The fatal accident happened in Tillson on Sunday, December 17, in a private field just off of Tillson road. A 25-year-old Tillson man was riding a snowmobile near a wood line, approaching a gate to the field. As he did, a 23-year-old man, also a resident of Tillson, was driving his ATV through the gate to the field. The men collided, having been unable to see one another due to the foliage along the wood line. The snowmobile rider was declared dead at the scene of the accident. The ATV rider was also seriously injured, but emergency personnel determined that his injuries were not life threatening.
Snowmobile riders encouraged to exercise caution during rides
The New York State Office of Parks, Recreation, and Historic Preservation (OPRHP) encourages New York snowmobile riders to exercise caution while riding these dangerous vehicles. The OPRHP reports that thousands of snowmobile riders are injured in accidents every year across the state, and that roughly 10 lose their lives. Snowmobile riders over age 18 aren't required to obtain safety certificates, but riders are encouraged to take one of the many courses offered by the State of New York before hitting the snowmobile trails. Snowmobile riders are required to carry insurance if they choose to operate their snowmobile outside of land that they own or lease.
Drivers of snowmobiles, like drivers of cars, have a duty to other riders to drive safely and attentively. Snowmobile drivers should never travel at over 55 mph while on a public trail, and they should never ride while drunk. If a negligent or dangerous snowmobile driver causes an accident, that driver may be financially liable to the victim for money damages in a personal injury lawsuit.
If you've been hurt in a New York snowmobile accident or other motor vehicle accident, get help filing a claim for money damages by contacting the knowledgeable and dedicated Goshen personal injury lawyers at Dupée & Monroe at 845-294-8900.