How a Defensive Driving Course Can Improve Your Driving Record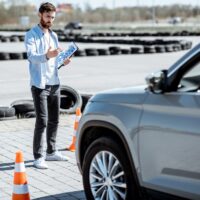 If you have been convicted of traffic violations or crimes such as speeding, texting while driving, or reckless driving in New York, you have accrued "driver violation points" on your driving record. Having points on your record can affect your insurance premiums, lead to additional fines, and result in license suspension or revocation. If you have been convicted of traffic violations, you have options available to reduce your points. Read on to learn about how completing a defensive driving course in New York can improve your driving record and protect your driver's license. If you are facing criminal charges or violations in New York City or the Hudson Valley, get help from a seasoned New York criminal defense lawyer.
What a Defensive Driving Course Will Do for You
If you are convicted of traffic violations in New York, the DMV will assign points to your record. Different violations accrue different point values. For example, speeding a few miles over the limit is worth three points; going 21 to 30pmh over the speed limit costs six points; reckless driving racks up five points; and texting while driving equals five points. If you accrue 11 points in an 18-month period, your driver's license may be suspended.
Taking a defensive course will "subtract" four points from your record for the purpose of calculating whether your license should be suspended, should you reach 11 points or higher. If you hit 11 points, completing a course will knock you down to seven and prevent suspension. It is important to note that, according to the DMV, the course will not cause the points to "physically come off your driving record." The points will instead be subtracted for the purpose of determining whether your license will be suspended.
Taking a defensive driving course will also reduce the base rate for your auto or motorcycle insurance. Successful completion of a course will reduce your premiums by 10 percent each year for three years.
What a Defensive Driving Course Will Not Do
While taking a driving course will reduce the points on your license and keep you from losing your license after accruing too many points, there are limits to what it can accomplish. If you are subject to a mandatory suspension or revocation of your license due to, for example, successive DWAI convictions, a driving course will not prevent the revocation or suspension. Nor will taking a defensive driving course alleviate your need to pay the "driver responsibility assessment," a fine owed to the DMV after accruing too many driving record points or being convicted of certain traffic offenses. Finally, a driving course does not give you credits against future points–you can't get yourself to negative points to offset future violations.
As mentioned above, a defensive driving course will not actually remove the points from your record; it will instead subtract the points from the calculation of your total for the sake of determining whether your license should be suspended. Your points, as well as violations and convictions, will continue to show on your record for up to four years. You can only use the point reduction program once in an 18-month period, meaning you cannot take three courses back-to-back to get your points back to zero.
Call a Dedicated Hudson Valley Criminal Defense Attorney
If you have been arrested or charged with a misdemeanor or felony in New York, call Dupée & Monroe, P.C., to get help from an experienced criminal defense lawyer. From our offices in Goshen, we represent clients charged with all manner of criminal offenses in Orange County and throughout the Hudson Valley.