Distracted Driving Pinpointed as a Factor in Many New York Crashes, Including Recent Local Incident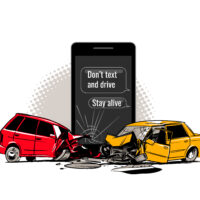 It's no secret that distracted driving, whether due to texting and driving, speaking on a handheld phone, or even old-fashioned distractions such as rambunctious passengers, can cause very serious accidents. A recent study conducted by the New York City Health Department sought to look at the prevalence of certain dangerous behaviors among New York City drivers and found that many drivers are behaving unsafely behind the wheel. A recent accident is an example of what can happen when drivers text while behind the wheel.
Distractions and speeding common on New York roads
The New York City Health Department looked at the prevalence of unsafe driving behaviors in a recent analysis of a 2015 citywide survey. The Health Department's report noted that, even though many New Yorkers go their whole life without learning to drive, 41% of survey respondents had driven in the preceding 30 days. Sixty-four percent of all survey participants admitted to speeding in the past month, and 13% admitted that they sped frequently. On average, the survey found that New Yorkers text while driving less often than the average American driver. Nationwide, about 31% of all drivers between 18 and 64 admitted to texting while driving in the previous month, but only 22% of New Yorkers between these ages said that they had texted or emailed while driving in the past 30 days. However, this average is higher among drivers between ages 18 to 24; 34% of these drivers confessed that they had recently texted while driving.
Distracted driving crash injures pregnant woman
A recent incident in the Hudson Valley serves as an example of the harm that can come from driving while distracted. Early on the morning of Monday, May 8, a taxi driver was carrying a pregnant woman from Monroe in his cab, traveling on Route 17 through the Village of Sloatsburg. Traveling in the opposite direction was a tow truck driven by a 34-year-old man from Tuxedo. The tow truck driver was drunk and texting, and drifted over the double yellow lines into oncoming traffic, colliding with the cab. Both the cab driver and pregnant woman were taken to Good Samaritan Hospital with non-life-threatening injuries. The tow truck driver was arrested and charged with multiple offenses, including driving while intoxicated, aggravated DWI, and reckless endangerment.
If you or a loved one have been hurt in a crash with a distracted driver, receive a free analysis of your potential claim for damages by contacting the seasoned and knowledgeable Goshen personal injury lawyers at Dupée & Monroe for a consultation, at 845-294-8900.