New York's "Serious Injury" Threshold: Non-Permanent Injuries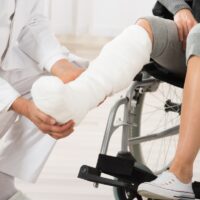 We've previously discussed some of the exceptions to New York's "no-fault" insurance scheme for recovering after an auto accident. If an accident victim suffers a "serious injury," they can bypass the no-fault insurance limitations and pursue damages directly from the at-fault driver. While most of the qualifying "serious" injuries are permanent (death, dismemberment, loss of a fetus, etc.), certain non-permanent injuries may also qualify. Continue reading to learn about the types of non-permanent injuries that satisfy the serious injury threshold for auto accident claims in New York. If you've been seriously hurt by a negligent driver in Goshen, the Hudson Valley, or New York City, call an experienced New York car accident lawyer for help.
Fractures
Under New York Insurance Law §5102(d), "serious injury" includes fractures. A fracture or bone fracture is a complete or partial break in a bone. Fractures that qualify for the serious injury exception can occur to any part of the body–including the arms, legs, knees, fingers, nose, or skull. A serious fracture can impair an accident victim for weeks, months, or even permanently, depending on the location of the fracture and the nature of the break. A broken bone can also lead to other complications when a jagged bone or loose piece pierces into other organs, breaks through the skin, or puts pressure on the brain and impacts other vital functions. Even a seemingly minor hairline fracture can be extremely painful and require costly medical treatment to fully recover.
Any number of bones can be injured in a car accident, although the most common bones to break in auto crashes are the collarbone, ribs, femur, sternum, spinal vertebrae, pelvis, and skull. Many types of fractures qualify for compensation under New York law, including:
Compression fractures
Spiral fractures
Complete fractures
Incomplete fractures
Oblique fractures
Comminuted fractures
Transverse fractures
Linear Fractures
Open fractures
Even though fractures are considered "serious" injuries for the sake of New York's insurance law, holding a negligent party directly liable for a fracture sustained in an auto injury can be difficult. It's important to consult with a savvy New York auto accident attorney to ensure that you maximize your compensation after a car crash-related fracture.
Temporary Disability / Impairment to Daily Activities
New York's final category of serious injury under section 5102(d) is a mouthful. According to the statute, serious injury includes:
A medically determined injury or impairment of a non-permanent nature which prevents the injured person from performing substantially all of the material acts which constitute such person's usual and customary daily activities for not less than ninety days during the one hundred eighty days immediately following the occurrence of the injury or impairment.
Essentially, this "90/180-day rule" allows an accident victim to rely on the serious injury exception when they suffer an injury that prevents them from living their normal life for a minimum amount of time. If for at least 90 days of the first 180 days following an accident, the victim is unable to perform daily tasks such as personal hygiene, getting dressed, going to work, driving, walking, or other normal activities without assistance, then the victim can rely on the serious injury exception to get out of the no-fault insurance scheme.
Subjective testimony from the accident victim concerning their pain or limitations is not sufficient to satisfy the 90/180-day rule. Instead, the victim must provide objective medical evidence demonstrating their temporary disability or incapacitation. Medical reports, diagnostic test results such as MRIs and CT scans, and testimony from a treating physician would all support a victim's claim.
If You've Been Hurt by a Negligent or Reckless Driver, Dupée & Monroe is Ready to Hear From You
If you need help seeking justice and compensation after a bone fracture or impairment to your daily life caused by a car crash or other negligence in New York, contact the experienced and trial-ready Goshen personal injury lawyers Dupée & Monroe for a free consultation at 845-294-8900.