Orange County Social Host Law Enters Into Effect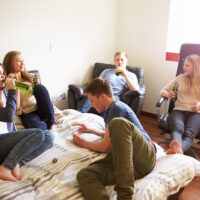 In response to a tragic accident at the start of the year, Orange County officials have enacted a Social Host law which imposes liability on adults who provide alcohol to minors. The law entered into effect on March 17, 2016. Officials are now attempting to spread word about the law as prom and graduation season are upon the county's high school students, in an effort to prevent further tragedy and help citizens understand the consequences of allowing or encouraging minors to drink.
The incident which drew attention to the issue of teen drinking occurred at a New Years' Eve party earlier this year, when 20-year-old Justin Speights was killed while attempting to break up a drunken brawl at a party largely attended by high school students. The law provides varying penalties, depending on the type of offense and how many previous violations the charged individual has committed. Under the law, an adult host age 18 or over could face criminal penalties where they knowingly allow minors to drink at their home or a party they're hosting, as well as if they discover that there are minors drinking at their home or party but fail to intervene upon learning of the drinking. While a first offense is considered a violation punishable by a fine that can reach $500, a second offense will be considered a misdemeanor, which could carry a penalty of a $1,000 fine, up to a year of jail time, or both.
Orange County leadership has teamed up with the Alcoholism and Drug Abuse Council (ADAC) of Orange County to offer educational workshops for parents and for high school students, highlighting both the criminal consequences to adults and the safety consequences to teens. Jim Conklin, the executive director of ADAC, is enthusiastic about the law. "Every drink consumed by someone underage originates with an adult. It can be an illegal sale, a shoulder tap purchase, or an older friend, relative, or parent knowingly or unknowingly providing alcohol. For this reason, our community needs and will benefit from this new Social Host legislation. It is an added protective factor for the youth of Orange County."
If you are facing criminal charges in New York's Hudson Valley and need seasoned, knowledgeable legal assistance, contact the Goshen criminal defense lawyers at Dupée & Monroe for a consultation on your claims, at 845-294-8900.