Rear-Ended Plaintiff Wins Motions on Liability and Serious Injury in Orange County Court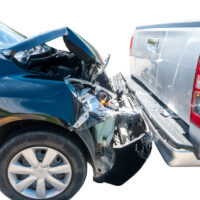 Back in 2008, the case of Ritzel v. Deserto brought us into court in Orange County twice in six months to argue two different summary judgment motions. The first time was in June, when we brought a motion asking the judge to declare the defendant liable to our client for damages as a matter of law. This motion was granted. Later in December, we were called upon to oppose the defendant's motion to dismiss the case on the grounds that our client did not suffer a "serious injury" as required by Insurance Law section 5102(d). This motion was denied.
This personal injury case arose from a car accident in which our client was rear-ended. We brought a motion in June for partial summary judgment on the issue of liability. Under New York law, a driver who rear-ends a stopped or stopping vehicle is prima facie liable for the damages caused, unless the defendant can explain the collision with some other reasonable cause, like mechanical failure, a sudden stop of the vehicle ahead, or an unavoidable skidding on wet pavement. The defendant could not do that here, so we were entitled to judgment as a matter of law. The judge ruled in our favor on the defendant's liability, so that the only issue left for trial was the amount of damages the defendant should pay our client.
In December we were back again. This time the defendant had filed a motion asking the court to dismiss the case, claiming our client did not suffer a serious injury as required by section 5102(d) of New York Insurance Law. In support of his motion, the defendant presented testimony of his medical expert who testified as to the degrees of flexion, rotation and extension in our client's spine. What the defendant's expert failed to do, however, was make any mention of what would be considered a normal range of motion and compare that range with his findings. Time and again the New York courts have held that a comparison of such findings to the normal range of motion is a required element of a motion for summary judgment such as this. The defendant's motion was denied.
This sequence of events is a not uncommon occurrence in New York car accident litigation, and our lawyers have seen our fair share of such cases (see previous posts Defendant Liable for Rear-End Collision Injuries in Newburgh Car Crash and Court Finds Defendant Liable for Orange County Car Crash). Keeping a personal injury case alive and headed toward trial is critical to success, whether the case ends in a verdict or judgment or eventually settles before trial. When a full and fair settlement cannot be reached, our lawyers are diligent in pursuing litigation through all the necessary stages, including submitting or opposing motions and representing our clients in court.