Risk of Tip-Over Leads to Recall of Children's' Furniture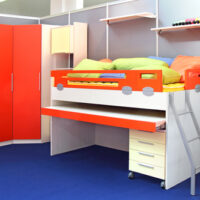 After receiving a report that their furniture may tip over, even when properly mounted to the wall, a children's furniture manufacturer has issued a recall notice. Pali Design, Inc., a Canadian company, has issued a recall of eight different lines of furniture they manufacture for children, due to the risk that defectively-manufactured hardware that allows customers to anchor the furniture to the walls of their children's' rooms is defective. The hardware has been reported as subject to breaking, allowing furniture to tip over. Thankfully, no injuries have yet been reported from Pali Designs children's' furniture. The furniture lines were manufactured between January of 2006 and September of 2010, and were sold in independent children's furniture stores, online, and at Babies 'R' Us stores. Furniture manufactured by the company after October of 2010 included a redesigned anchoring hardware kit that is not believed to be defective; the reasons that the company did not issue a voluntary recall based on the defective anchoring hardware when it redesigned the anchoring kit is unclear. Customers who believe they may be affected can check a list of recalled furniture serial numbers and product lines here.
Injuries and deaths caused by furniture or appliances tipping over and falling, typically onto children, are common but believed to be underreported. Since most injuries occur when a child is playing alone and unsupervised, parents often feel guilty for the injuries or death and do not pursue legal action against the furniture's manufacturer, even if the product may have been defective or if safety measures taken by the manufacturers were insufficient. The Consumer Product Safety Commission reports that 430 deaths resulted from tip-overs of furniture or appliances between 2011 and 2013. The majority of these deaths were children. The Commission estimates that one death occurs every two weeks due to children or others being crushed or asphyxiated while pinned under furniture.
While not a mandatory standard, manufacturers are strongly encouraged to comply with ASTM international voluntary safety standards issued in May of 2009 regarding tip-over risks. The standard provides that a chest of drawers should not tip over where it is fully loaded, the drawers are extended, and there is a pull force of 50 pounds being exerted on the dresser (representing the approximate weight of a child). In order to keep furniture upright, responsible manufacturers include anchoring kits with furniture, typically consisting of a nylon strap with a grommet and a screw to affix the furniture to the wall.
When a product you've relied on to be safe becomes a lethal object in your home, you may be entitled to legal compensation by way of a products liability lawsuit for the defective manufacture or design of that dangerous product. You deserve to be compensated for your injuries resulting from a badly-made product. Contact experienced Hudson Valley personal injury and products liability attorneys at Dupée & Monroe for a free consultation on your potential claim.