Proposed Bills Would Require Seat Belts for Backseat Passengers in New York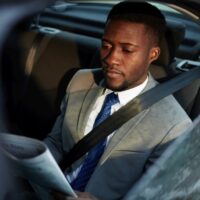 Under the current New York Vehicle and Traffic Laws, passengers in the backseat of a passenger vehicle who are over the age of 16 are not required to wear a seatbelt while the car is in operation. Several lawmakers from the Hudson Valley aim to change that rule. Continue reading to learn about the proposed traffic safety bills, and call a knowledgeable New York car crash lawyer if you or a loved one has been hurt in an accident in Goshen, the Hudson Valley, or New York City.
Assembly passes seat belt bill
The New York State Assembly passed A6163 on February 12, 2020. The measure is identical to the Senate version of the bill, S4336, which is currently making its way through the state Senate.
The bills would make it a primary offense for passengers over 16 in the backseat of a passenger vehicle to ride without a seatbelt, punishable by a fine of up to $50. A "primary offense" means that the police can pull someone over expressly for that offense, as opposed to pulling them over for some other reason, such as reckless driving, and then throwing in a ticket for the second offense after pulling the driver over.
The proposed law carries several exceptions for older vehicles, emergency vehicles, and vehicles not required by federal law to have seat belts, among others. The proponents are confident that the bill will make it through the Senate and reach a full vote in this session. The proposed law follows another law recently enacted in New York that requires all taxi and livery passengers over age eight to wear a seatbelt. The law does not apply to ride-share services like Uber and Lyft.
Proposed law might limit personal injury recovery for passengers
The new rule could affect personal injury victims. Passengers who are injured in a traffic accident may sue the driver of their vehicle or the driver of the other car for damages, depending on who was at fault. Driver defendants can already limit damages or even fight an injury claim altogether if the passenger was not wearing a seatbelt, particularly if the passenger was in the front seat where seat belt use is required. If the bill passes, passengers in the back seat will be in violation of traffic safety laws if they are not wearing a seat belt. Violating a safety regulation is strong evidence of contributory negligence that can seriously undermine a personal injury claim.
Call Personal Injury Attorneys Dupée & Monroe in Goshen after a Serious Hudson Valley Car Accident
If you need help getting the money you're owed after an accident in New York, contact the seasoned and talented Goshen personal injury lawyers at Dupée & Monroe for a free consultation at 845-294-8900.