Threats Made during Sentencing may Lead to Added Prison Time for Orange County Man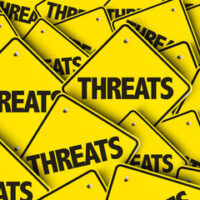 Threats made during the sentencing process, especially when threats are made towards a federal prosecutor in the courtroom can face harsh punishments on top of their original sentencing and crimes. A man facing charges in federal court potentially added multiple years to his sentence with his behavior at his sentencing. Read on to learn about the incident and the potentially-devastating effects of courtroom outbursts and threatening judges and prosecutors. Contact an experienced Goshen criminal defense attorney if you're facing charges in the Hudson Valley.
Angry outburst leads to additional charges
A 28-year-old man from New Windsor was attending a sentencing hearing on November 30, 2018. He had pleaded guilty to a series of crimes related to videotaping a sexual encounter with a 14-year-old girl and subsequently hiding the girl in his mother's apartment for several days, resulting in a search conducted by the FBI and Port Chester law enforcement. Federal prosecutors had sought a 30-year sentence for the series of crimes, while the man's attorney asserted that a 10-year sentence would be fair. The US District Judge decided to sentence the man to 20 years in federal prison. In the midst of his hearing, the man erupted in an angry outburst, threatening physical harm and murder against the Assistant US Attorney prosecuting his case, as well as the judge imposing his sentence.
On January 9, 2019, the man was charged with one count of threatening to assault and murder a United States judge and one count of threatening to assault and murder a federal law enforcement officer (namely, the Assistant US Attorney prosecuting his case). Each of these charges carries a maximum sentence of 10 years in prison.
Violent threats against federal officials carry serious consequences
When you're facing criminal charges, your behavior in the courtroom can make a big impact on whether you're convicted and, if so, the sentence you receive. Dressing appropriately, interacting respectfully with judges and other courtroom staff, and behaving calmly can all go a long way toward fostering positive feelings in the judge or jury determining your future. A loss of self-control in the courtroom can do serious harm to your credibility before the court. When that outburst takes the shape of violent threats, such as the case described above, it can have the multiplied effect of a harsher sentence for the existing charges, as well as new charges resulting from the threats. A skilled New York criminal defense attorney can guide you on how to carry yourself in the courtroom while they handle the job of defending your constitutional rights and future when facing criminal charges.
For knowledgeable and dedicated assistance with your New York criminal case, contact the seasoned Goshen criminal defense attorneys at Dupée & Monroe at 845-294-8900.