Why Get an Attorney After a Car Accident?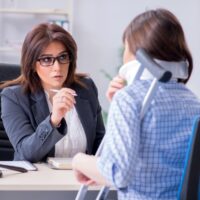 After a severe car wreck, you may ask yourself, Do I need a lawyer? Some accident victims try to go it alone, expecting that they will save themselves money in the process. For most accident victims, however, having a lawyer in their corner is an invaluable asset that will make the process easier and more successful in the long run. Continue reading for a discussion of why you should contact one of our New York car accident lawyers after your traffic crash in Goshen, the Hudson Valley, or New York City.
Your Attorney Has Been There Before
Most people will experience a serious accident, at most, once in their lives. Dealing with the aftermath can be an overwhelming process, between dealing with the insurance company, evaluating whether the other driver was negligent, speaking with the police, considering your legal options, finding medical care, apportioning your expenses, etc. A seasoned car crash lawyer has been through this process dozens, if not hundreds of times. Your attorney can give you advice and guidance on what to expect, how to get proper medical care, the steps you should take after the accident to preserve your rights, and things to watch out for. If you have any questions or concerns, your attorney is there to help you through the process.
You Can Focus on Your Recovery and Your Family
Dealing with legal issues after a crash can be an all-consuming task. Collecting evidence, negotiating with insurance providers on all sides, communicating with defense lawyers, taking the matter to court where necessary; all of these things take a lot of time, energy, and focus. After a severe car crash, you will likely have a lot on your plate simply recovering from your injuries and getting your life back in order. A professional legal advisor can handle all of these matters for you while pursuing your claims for compensation, letting you focus on yourself and your family.
Accident Victims With Attorneys Get Bigger Settlements
Injured accident victims who retain lawyers get bigger payouts from insurance companies and negligent defendants. Insurance companies know that they cannot give a competent lawyer the runaround, and defendants know that injured plaintiffs mean business when they bring in a lawyer. They know that your claim is worth it to you to pursue, and they are more likely to settle for a reasonable amount. You might not even know the value of your claim, considering future medical expenses, pain and suffering, emotional distress, lost income, punitive damages, and other parts of your compensation. Your attorney can help you explore all of your possible damages and build the strongest case to pursue them. Even after accounting for attorneys' fees, plaintiffs end up with more of their bills covered, more pain and suffering damages, and more money in their pocket.
If You Go to Court, You Need a Lawyer
Finally, even if you have a handle on the insurance companies and your claim, if you cannot get the settlement that you know you deserve, you need a lawyer on your side to take it to the next step. While you can technically go to court without an attorney, the legal process is a labyrinthine process of rules, regulations, and procedures. There are many pitfalls and technical traps that could cause you to lose out on some or all of your rights. Your attorney knows the process, knows where and how to get the evidence you need to collect, knows how to file court documents and argue motions, and knows how to convince the judge or jury of your side of the case.
Call Car Crash Attorneys Dupée & Monroe in Goshen after a Serious Hudson Valley Car Accident
If you need help getting the money you're owed after an accident in New York, contact the dedicated and effective Goshen personal injury lawyers at Dupée & Monroe for a free consultation at 845-294-8900.