Consequences of Using Your Cell Phone While Driving in NY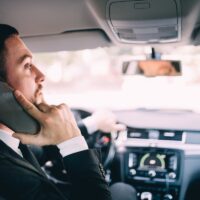 With the ubiquitous rise of cell phones (and now smartphones) has come a significant increase in distracted driving. Many drivers text, email, browse the internet, view and comment on social media, and otherwise engage with their phones while behind the wheel. Texting or otherwise using a cell phone while driving is unlawful and dangerous. Drivers who text while driving are significantly more likely to cause an accident. Continue reading for a discussion of the dangers of cell phone use while driving and the consequences that a distracted driver may face. If you've suffered a serious injury in a distracted driving accident in Goshen, the Hudson Valley, or New York City, reach out to a dedicated New York distracted driver accident lawyer for help.
Distracted Driving is a Leading Cause of Serious Car Crashes in New York
In recent years, distracted driving has emerged as one of the most significant hazards on the road. Many believe that distracted driving is as dangerous, if not more dangerous, than driving under the influence of alcohol or drugs.
The numbers bear out the dangers of distracted driving: More than 3,000 people are killed every year in distracted driving accidents nationally, as reported by the National Highway Transportation and Safety Administration (NHTSA). In 2019, 3,142 people were killed across the country in distracted driving accidents and hundreds of thousands more were injured. Between 2012 and 2019, there were 26,000 distracted driving accident fatalities.
New York is no exception to the dangers of distracted driving: In 2018, 278 reported traffic deaths involved cell phone use as a contributing factor. The 2018 figure represents a staggering 18% increase from 2014.
Texting While Driving Is Illegal in New York
In an effort to combat the dangers of cell phone use while driving, nearly every state has passed some sort of ban on handheld use of phones while driving. New York law prohibits drivers from using a handheld mobile device, including any phone or other electronic device, while operating a motor vehicle. Drivers cannot hold a device and talk, compose/read/send texts, emails, or other communications, access/read/transmit/save other electronic data such as web browsing, view or take photos/videos, or play games. The only exception applies when the use of a cell phone is necessary in an emergency to, for example, call 911.
New York drivers may only use hands-free devices while driving. Drivers who use hand-held devices while driving will face fines that escalate after multiple offenses, and they will see points added to their driving record. With enough points, a driver's license can be suspended.
Drivers Who Use Their Phones Are Liable for Accidents They Cause
Using a cell phone while driving is illegal for a reason–it's dangerous, and it greatly increases the risk of an accident. If you are seriously injured in an accident with a driver who was texting just before or at the time of the crash, you have the right to seek compensation. Obtaining compensation requires proving the other driver was at fault, typically by way of showing that they were negligent.
At-fault drivers who are found to be negligent in a crash can be held liable for the damages caused by their actions, including medical bills, pain and suffering, and other harm suffered by accident victims. Negligence can be proven in several ways, but one of the strongest arguments for negligence is demonstrating that the defendant was violating an established driver safety law. Texting while driving is known to be dangerous, and it is explicitly prohibited by law. Proving that the other driver was using their phone while driving is strong evidence that they were negligent and that that negligence directly caused the accident–meaning they were at fault.
If You've Been Injured in a Distracted Driving Accident, Dupée & Monroe Is Here to Help
If you need help getting medical treatment and compensation for the harm you \suffered after a serious accident caused by a distracted driver, or if you are pursuing another negligence-based claim in New York, contact the passionate and trial-ready Goshen personal injury lawyers Dupée & Monroe for a free consultation at 845-294-8900.